Sport
Friedman's Takeaways: New England Show Days
On Monday and Tuesday of this week a number of high schools in Connecticut and Massachusetts participated in a coordinated event that has become known as the New England Show Days. Sixteen high schools had their football team's work out in conjunction with the other schools so that college coaches and members of the media could go from one school to the next and see every player go through a workout.
National recruiting analyst Adam Friedman was on hand and delivers his observations below.
UPDATE ON 2024 COMMITS
Georgia quarterback commit Ryan Puglisi's workout was on the same day five-star quarterback Dylan Raiola announced his commitment to the Bulldogs. After his workout, Puglisi was quick to say that the plan was always for Georgia to take a second quarterback this year and it won't affect his decision, but Penn State has been pushing for sometime and it wouldn't be surprising to see him visit the State College campus.
South Carolina commit Dante Reno had sharp mechanics during his workout and he has gotten slightly bigger since his last in-person evaluation. The Gamecocks rely on Reno's recruiting acumen and he has a list of players he's pursuing that includes, Jonathan Paylor, Anthony Carrie, Dylan Stewart and Jordan Thomas.
Luke Reynolds is committed to Penn State as a tight end after playing quarterback in previous years. The Nittany Lions have a great tradition at the tight end position and Reynolds looks to be the next in line. He has impressive athleticism for a player his size and had no problem showing off, making twisting and leaping catches during drills.
Michigan defensive line commit Jerod Smith continues to show positive physical development. We've always really liked his film and it's nice to see progress as he works to earn playing time as a freshman.
German lineman Manuel Beigel is an impressive athletic specimen. The future Wolverine has a huge frame that isn't nearly filled out yet but he's already very strong and moves exceptionally well for a player his size. It'll be interesting to see what side of the ball hands up on at the next level but there's no denying his athletic traits.
*****
A LONG WAY FROM HOME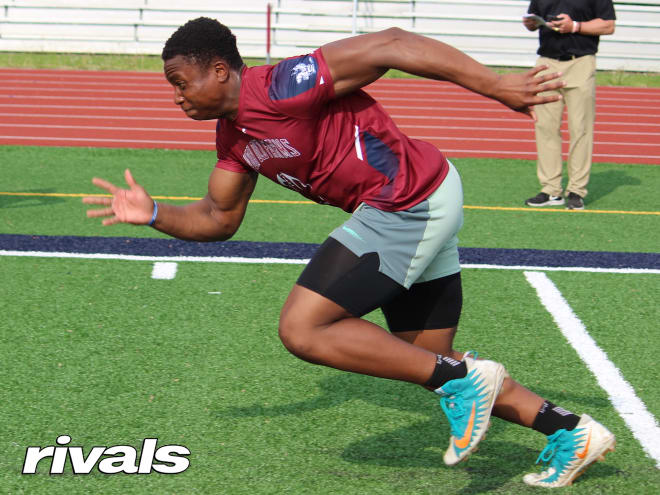 Canadian defensive lineman Benedict Umeh, who plays at Avon (Conn.) Avon Old Farms, drew a sizable crowd of college coaches during his work out on Monday. At 6-foot-5, 265-pounds, Umeh is a really powerful defensive lineman, who will likely end up on the interior of the defensive front. He has impressive physical dimensions and is still pretty far from his ceiling as a prospect.
This was Umeh's first in-person evaluation and he certainly did not disappoint. He understands how to use his hands effectively and has a number of techniques to get by the offensive lineman in front of him.
*****  
OTHER 2024 STANDOUTS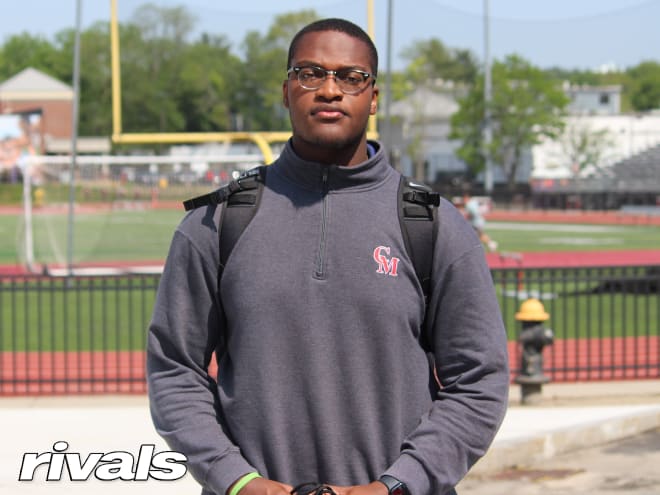 Offensive tackle Guerby Lambert is as big as a house, but doesn't seem to have much bad weight on him. He's added some additional mass to his frame and looks to be on track to contribute fairly early in his career. Lambert has official visits scheduled to Notre Dame (June 2), Boston College (June 9), Ohio State (June 16) and Penn State (June 23). Many people have penciled Lambert into Notre Dame's 2024 class but Ohio State seems to be a legitimate threat here.
Lineman Liam Andrews, a Rivals250 prospect, has done a pretty good job developing physically since the last time we saw him. The added strength seems to have increased his overall effectiveness. The athleticism Andrews brings to the table is awfully impressive and there are some schools entertaining the idea that he could play on either side of the line of scrimmage. Penn State, Florida and Wisconsin are some of the schools to watch in his recruitment.
Jacob Smith, the twin brother of Michigan commit Jerod Smith, brings a lot of versatility to the field. He's also gotten much stronger and seems to have gotten an inch or so taller. Smith was able to work out with the defensive linemen and show off his coverage skills during the passing drills.
Linebacker Elijah Newby has really taken advantage of the offseason and it's helped his recruitment immensely. Not only is he up to 208-pounds, Newby posted a 10.9-second 40-yard dash time and the offers started rolling in. College coaches love his size and speed and now Newby has plenty of options at the next level. Penn State (June 9) and Stanford (June 23) have official visits set and USC and South Carolina could also get official visits.
*****  
UNDERCLASSMEN TO KNOW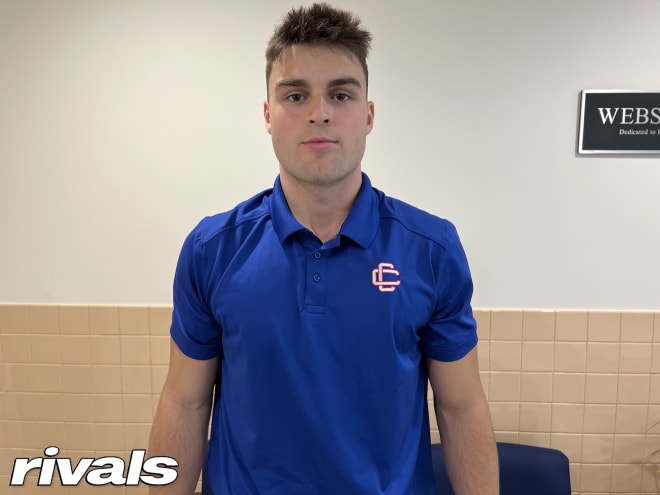 Perhaps no player benefited more from this tour than Hardy Watts. The Brookline (Mass.) Dexter offensive lineman walked away from his workout on Tuesday with an offer from West Virginia followed by an offer from Syracuse later that day and Penn State on Wednesday. A 2025 prospect that stands tall at 6-foot-5, 285-pounds, these few offers are certainly not going to be the last of them.
Defensive lineman Adam Shovlin has added significant mass to his frame as well. He's always been a very strong, aggressive prospect and now that he's focusing purely on playing on the defensive side of the ball, he's been able to focus on his technical development.
Class of 2026 offensive lineman Marky Walbridge is going to be a well-known recruit in a couple years. Michigan, Tennessee, Penn State, Michigan State, Pittsburgh, Boston College, South Carolina and Rutgers have offered already. The 6-foot-6, 285-pound freshman also played basketball, hockey and baseball.
Dominic Funke will likely be a linebacker once he reaches the college level. The younger brother of Boston College offensive lineman Jack Funke, he is already a fairly physically mature prospect so it will be interesting to track his athletic development over the rest of his high school career.
Quarterback Blake Hebert has been picking up major scholarship offers over the last few weeks and it's all coming really fast for him. He has a very solid build but we weren't able to see him throw up during the in-person evaluation. Hebert is someone we will be checking in on again during this offseason.
*****
STOCK RISERS
Ethan Long out of Greenwich (Conn.) Brunswick has the look of somebody who is going to see his recruitment get drastically busier. He has the build of a safety right now but this 2025 prospect could add a lot of muscle mass to his frame and end up being recruited as an outside linebacker. He has impressive quickness and 4.6 speed in the open field.
Massive offensive lineman CJ Williams should expect an uptick in his recruitment after what he showed during his workout. He is very flexible for a player that stands tall at 6-foot-8, 320-pounds. He's surprisingly agile too, something that could be attributed to his background as a dancer.
Interior lineman Jaden Lafontant could be a project at the next level, but he has the potential to be a multi-year contributor if he can reshape his body a little bit. He has great flexibility and quickness, but if he was able to play with a bit more strength and balance, he could turn out to be a dominant player.
#Friedmans #Takeaways #England #Show #Days